The Business Owner of 8Ball, Richard, was referred to Gotcha as he needed a new team member to leverage the business through their creative innovation.
8Ball T-shirts are an in-house design and print bespoke, unique t-shirts company based in Stone. They design anything from movie t-shirts, slogans, retro, sci-fi etc.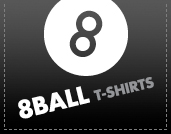 They wanted to recruit a Social Media Marketing Manager to run and operate their social media and marketing for the company. To fit their tongue and cheek style humour, they not only needed a candidate to fit in with the team but to bring great skills and experience.
8Ball were a very fun company to work with…
We knew EXACTLY what was needed, so we immediately targeted specific talent for Richard.
We placed a lovely candidate at 8Ball as a Social Media Marketing Manager and we couldn't be happier. Don't worry, we will be back with our orders Richard…
"Angela took great care throughout our recruitment process from start to finish to ensure we were happy at every stage. We were pleased with the shortlist and helped us get through some difficult issues as well. I'd be happy to recommend Angela and the great team at Gotcha and will happily use them in the future."
– Richard Flanagan, Business Owner of 8Ball T-Shirts 
Read more of our Got 'em stories